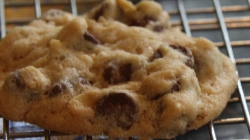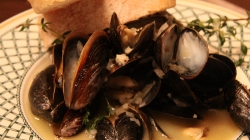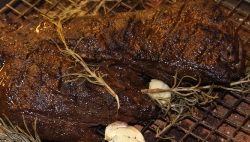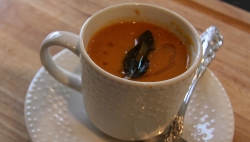 Recipes of the month
Select a dish on the right
to see the recipe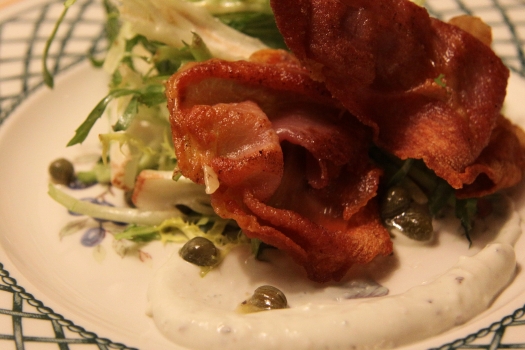 "Pigs Ear" and Frisée Salad
(Inspired by Chef April Bloomfield @ The Spotted Pig)
6 slices Prosciutto, thinly sliced
1 cup Olive oil
Frisée
For buttermilk blue dressing:
2 oz. Buttermilk blue cheese or good quality blue
1 teaspoon Buttermilk or heavy cream
2 tablespoon Mayonnaise
Salt & pepper to taste
In a small blender combine mayo, blue cheese, buttermilk, salt and pepper. Process until smooth. Adjust seasoning if necessary.
For caper vinaigrette:
1tablespoon Capers (with liquid)
1 teaspoon Dijon mustard
1 teaspoon White balsamic
2 tablespoons Olive oil
Pinch of salt and pepper
Whisk together or shake olive oil, Dijon, white balsamic in a small bowl or jar. Add capers, salt and pepper.
Add olive oil to a sauté pan set over medium high heat. When oil begins to ripple (not smoke) add ripped pieces of prosciutto 2 at a time until golden brown and crisp. Drain on a paper towel. Repeat with the remaining pieces. Set aside
Toss the frisée with the caper vinaigrette. Dollop the buttermilk blue on a small plate, arrange the dressed frisée, and garnish with "pigs ear".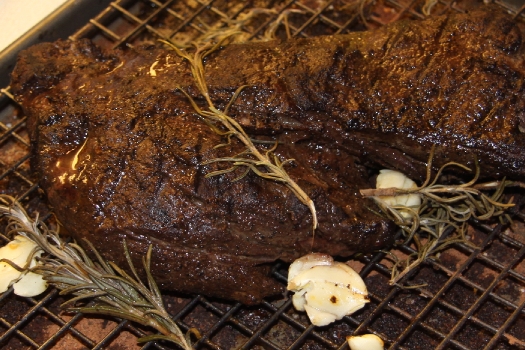 Coffee Rubbed Tenderloin
Rub:
1 Tbsp Adobo
1/4 tsp Cinnamon
1/4 cup Cocoa
3 Tbsp finely Ground Coffee
1/4 tsp Garlic Powder
1/2 tsp Paprika
1/4 tsp Cayenne
Pinch of Chili Flakes
Mix all of the 8 ingredients above in a small bowl, set aside.
Tenderloin:
3 lb tenderloin
Salt & pepper
Olive oil, to coat
Coffee rub
A few sprigs of rosemary 5-6 cloves of garlic, smashed
Preheat the oven to 375F
Begin by heating the grill. Season the tenderloin with salt and pepper. Rub the tenderloin with all of the spice mix. Then lightly coat with oil to prevent sticking. Grill on each side for 4 minutes. Once you've obtained beautiful grill marks, let rest for 10 minutes. Place on a rack on a sheet pan. Surrounded with sprigs of rosemary and garlic. Cover with tin foil and roast for 25-30 minutes. Raise the temperature to 400F and continue to roast for an additional 15 minutes until medium-rare.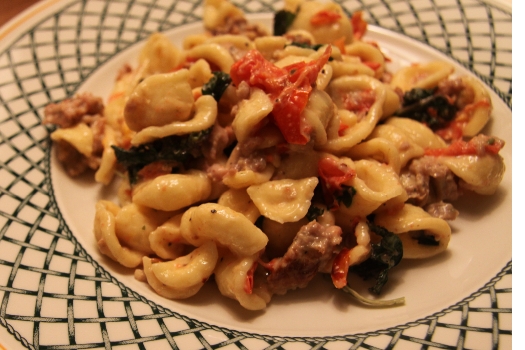 Orecchiette, Sausage, & Chard
Serves 4
1- 1 lb package orecchiette
1 pint cherry tomatoes
2 cloves garlic, thinly sliced
Olive oil
4 cups Swiss Chard, torn
3 mild pork sausage
16 oz heavy cream
Bring a large pot of salted water to a boil. Cook the pasta until al dente. Strain and set aside.
On a sheet pan covered with tin foil, squeeze the tomatoes with your hands and toss with sliced garlic and a drizzle of olive oil. Place in the oven under broil until tomatoes begin to wrinkle and slightly char.
In a medium sized saucepan over medium high heat sear all 3 sausages. Take the pan off the heat and transfer sausages to a cutting board. Carefully slice each sausage into rounds. Add the pork back into the pan and return to heat. When you can't see anymore uncooked meat incorporate the chard and sauté until completely wilted.
Bring the cream to a boil in a small sauce pot. Lower to a simmer and let reduce until thick, about 5 minutes.
In a large bowl toss together the orecchiette, tomatoes, sausage, chard, and cream. Season with salt and pepper. Enjoy!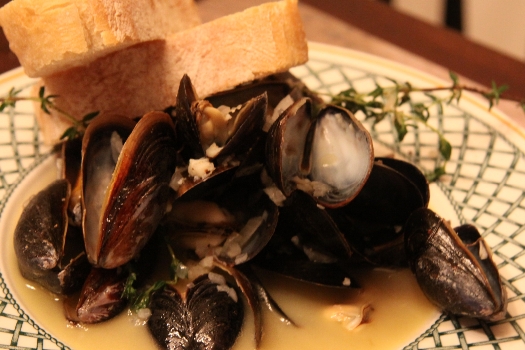 Mussels Meunière
Olive oil
2 cloves garlic, minced
1 shallot, minced
1 lb mussels
1/2 cup white wine
8 fl oz. clam juice
5 sprigs of thyme
2 tablespoons unsalted butter
1 lemon, halved
Fresh parsley, chopped
Use just enough olive oil to coat the bottom of a large sauté pan. On medium high heat brown the garlic and shallots, be careful not to burn. Add the mussels and deglaze the pan with white wine followed by the clam juice. Nestle the sprigs of thyme on top of the mussels, give the pan a good shake, bring to a simmer and cover. Cook until all the mussels have opened, about 2-3 minutes. Uncover and add the butter giving the pan another good shake. Season with salt and pepper and garnish with a squeeze of lemon juice and parsley. Serve immediately with torn chunks of good bread.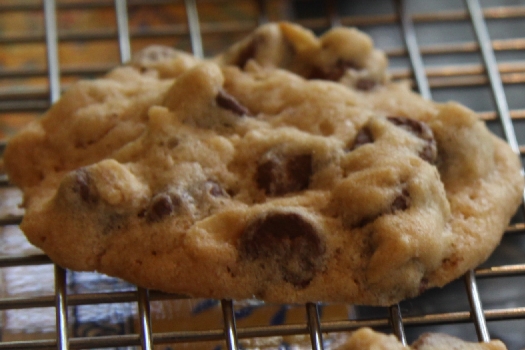 JeremyCooks Chocolate Chip Cookies
Yields 48 cookies
1 cup walnut or pecan pieces (optional)
2 ½ sticks unsalted butter, room temperature
1-cup light brown sugar, packed
½ cup granulated sugar
1 ½ teaspoons vanilla extract
1 teaspoon lemon juice
1 large egg
1 large egg yolk
2 cups all purpose flour
1 teaspoon baking powder
1 teaspoon baking soda
1 teaspoon kosher salt
1 cup rolled oats
3 cups semi-sweet chocolate chips

Preheat the oven to 325F
Toast nuts in skillet set over medium high. Stir every so often until they become aromatic and begin to release their oils, 3-5 minutes. Set aside and cool.
Using an electric mixer cream the butter and both sugars until smooth. Beat in the vanilla and lemon juice to combine. Add the egg and egg yolk and beat until just blended into the batter.
In a separate bowl, stir the flour, baking powder, baking soda, and salt. Add the flour mixture to the batter and mix until well blended. Stir in the oats, chocolate chips, and nuts (if desired).
Chill the batter for an hour if you have the time. This will help make them slightly thicker.
Spoon large tablespoons of dough, 3 inches apart on an un-greased cookie sheet. Bake the cookies for 13-15 minutes or until golden brown around the edges. Transfer to a rack to cool completely.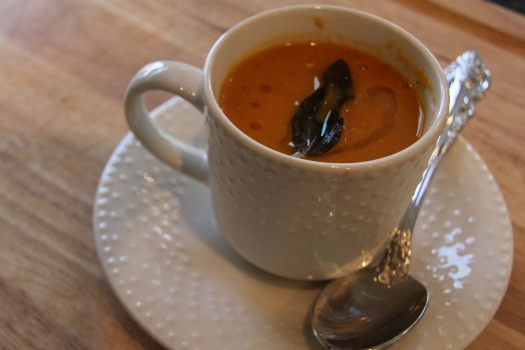 Spicy Roasted Tomato Soup
Yield: 4 servings
2 ½ Ib tomatoes (mixed variety)
1 red onion sliced
1 carrot chopped
3 garlic cloves
½ cup olive oil
1-quart vegetable broth
3 Tbsp unsalted butter
1 tsp chopped rosemary
1 tsp chopped thyme
¼ tsp crushed red pepper flakes
1 bay leaf
Salt and pepper to taste
Fried sage leaves and olive oil (optional garnish)
Preheat the oven to 450 degrees F.
Begin to core and slice the tomatoes in half. Add them into a large bowl along with the sliced red onion, chopped carrot, and garlic cloves. Toss with olive oil and salt and pepper until evenly coated. Arrange the mixture on a sheet pan and transfer to the oven for 20 to 30 minutes until caramelized.
Once the tomato mixture is caramelized, transfer it to a heavy-bottom stockpot. Add ¾ of the vegetable broth to the pot, the herbs, and butter. Bring the soup to a boil, then reduce the heat and let it simmer for 15 to 20 minutes, or until the liquid has reduced by a third. Off the heat, use an immersion blender (or a food processor/blender) to puree the soup until smooth and put back on the heat. Adjust the consistency with the leftover stock, if necessary. Season with salt and pepper.
For a garnish, ladle the soup into bowls or coffee mugs. Carefully lay 1-2 fried sage leaves on top of the soup, and then drizzle with a little olive oil (about one tsp).